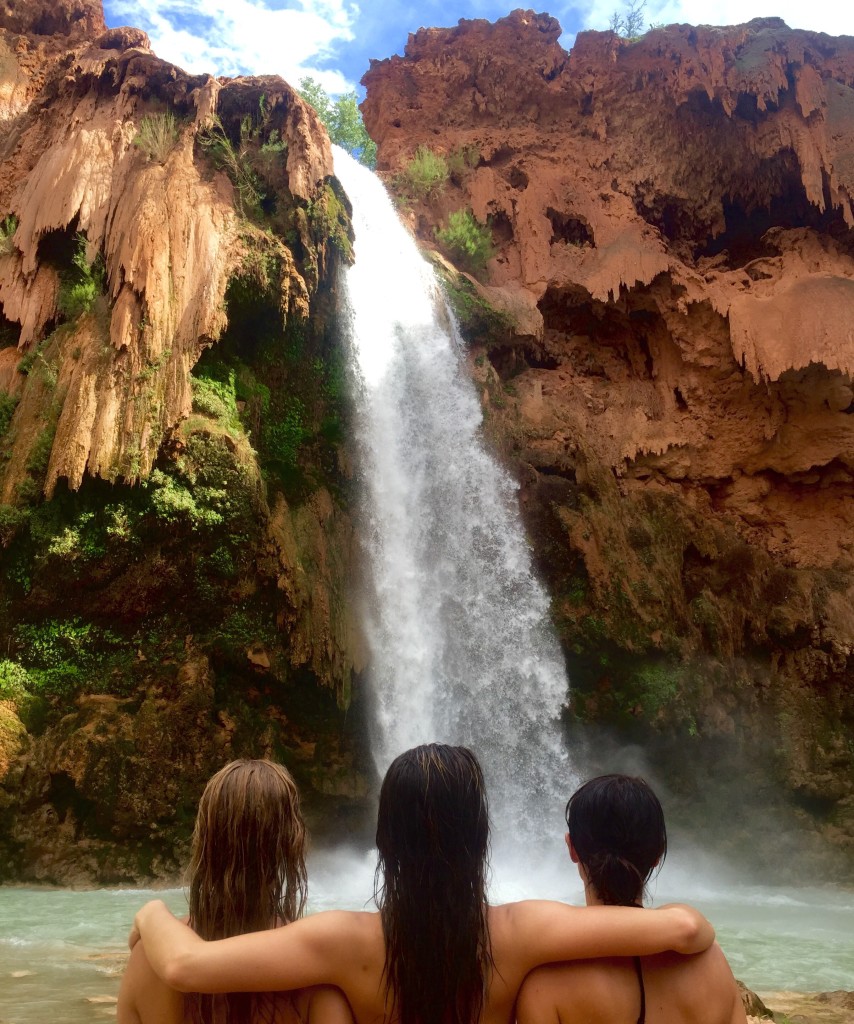 I recently took a trip to Havasu Falls in the Grand Canyon and words do not describe just how incredible my experience was. Havasu is the epitome of natures playground. It is a picturesque waterfall located in the Grand Canyon, Arizona.

Havasu Falls is part of the Havasupai Indian reservation and is located about 2 miles from the small Indian Village of Supai, AZ. It is reachable only by foot, mule, or helicopter. We decided to hike in and take a helicopter out. The hike begins at Hualapai Hilltop which is about 65 miles from civilization. We arrived early in the  morning for our hike in to avoid the heat of the mid-day. Our 8 mile hike to the village of Supai took about 3 hours. However, we were all in fairly good shape. They recommend that you typically allow around 4 hours. We were only able to get a pass for 2 days/1 evening because they were all booked for the other nights. So we hiked in early on Sunday morning, spent the day at the falls and took the helicopter out on Monday. We loved it so much that we have already made plans to book 4 nights at the campsite near the falls for next June. If you are interested in taking a trip to Havasu, here are some tips that might help make your trip go smoother.
1. Bring plenty of water. Each of us had our own camelbak which held 2 Liters of water and almost all of us were out of water by the time we reached Supai. So plan to bring at least 2 Liters if not more.
2. Bring plenty of snacks, power bars, etc. You will need them. Once you reach the village of Supai there is a small store where you can replenish your snacks, as well as a cafe to eat lunch/dinner. But just be aware that after you reach Supai you have 2 more miles to the campsite.


4. Make sure to bring comfortable hiking shoes and water shoes. None of us brought water shoes and we were fine for the most part, however, one of the girls in our group slipped on one of the rocks and took a pretty hard fall so next time I go I am most definitely going to bring water shoes.
5. I recommend scheduling at least 2 full days and 2 nights to have enough time to enjoy all of the falls. There are tons of pools to play in, as well as rocks to jump off at Havasu falls and there are 2 more falls after Havasu. Mooney falls is 1 mile downstream from Havasu. And Beaver falls is 3 miles downstream from Mooney. The ideal situation would be to set up a day camp at the Campground which is  .5 miles from Havasu Falls and then go on day hikes to each of the falls.

6. Schedule your trip far ahead of time. The lodge in Supai and the campsite near the falls fill up quickly so if possible, schedule your trip months ahead of time, if not a year in advance. As I said above, I am booking another 4 night/5 day trip this week for June 2016.
7. Take the helicopter out if possible. It is $85 (cash) or $95 (card) for a helicopter ride out of the Grand Canyon and it is well worth every penny. You can take the helicopter in as well but I recommend still backpacking/hiking in so that you can get the full experience.
8. Enjoy! I have been to all 48 contiguous states, as well as 16 of the US national parks and have never seen anything like Havasu in the United States. Of course every place is so different, but Havasu is unique, and spectacular and definitely worthy of your bucket list. Feel free to message me on the blog if you have any specific questions to make your trip smoother. Enjoy!