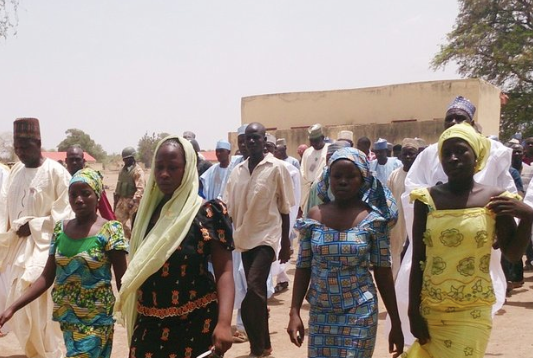 On the evening of April 14th nearly 300 teenage girls were abducted from their boarding school in the small farming community of Chabok in Northeastern Nigeria. These were young girls in pursuit of an education, in pursuit of making a life for themselves, and in pursuit of their dreams to become nurses, educators and lawyers. Mostly between 16 and 18 years old, these young girls were rounded up at gunpoint by the Islamic terrorist group known as Boko Haram. According to accounts, armed members of the group overtook the security guards at the school, pulled the girls out of their beds and forced them into trucks. The convoy of trucks then disappeared into the dense forest bordering the community. The school was the only one still open in the area following threats and attacks by Boko Haram, whose ideology opposes "western education" and especially women's education. Their name loosely translates to "Western education is sin" or "forbidden" in the local Hausa language. In a video that surfaced this week, the groups leader, Abubakar Shekau was quoted saying, girls shouldn't be in school. "Women must go and marry." A simple right that we have and often take for granted in our nation is the very thing that women in NIgeria are being abducted, killed and sold into slavery for.
According to CNN, Nigerian authorities recently updated the number of girls kidnapped to 276. At least 53 of the girls escaped, leaving 223 in the hands of their captors.  Now, twenty five days after the abduction, the families of the over 200 girls who are still missing are beginning to lose hope despite government assurance that their girls will be found. According to several sources including the New York Daily News, Shekau has said he plans to sell the girls into marriages and sex slavery. "I abducted your girls." He said, "I will sell them in the market, by Allah. I will sell them off and marry them off," he railed, while holding an assault rifle.
The tragedy in all of this is how little international support and media coverage it has received. This is an outrage to many who see the dire role that news coverage and international support plays in raising awareness and getting others on board to help fight and hopefully bring these girls back home. I didn't, in fact, hear of the story until just three days ago during a prayer time with my church Community group, in spite of having followed CNN news coverage daily in the weeks prior. I went home that night and spent hours researching. My heart began to break for these girls, especially considering so much of the news media seems to be silent about the crisis. According to anchor Brian Stelter it isn't being covered because there are not enough photos and first hand accounts. He explains, "We, as journalists, cannot go to this area because where this occurred is considered a Boko Haram stronghold." In addition families are reluctant to be filmed for fear of retaliation or violence towards their missing daughters. I believe the reasons the media isn't covering it extend far beyond mere practicalities to more social injustice issues but no matter the case, this is a crisis. And because of the lack of media coverage and international support it is vital that we all play our part in speaking up for these young girls.
So what can you do to help?
1. You can speak up. Social media has proven to be a powerful tool over the past couple of weeks to do the job that the news media is not. You can share the story of these girls, stand up for injustice and hopefully eventually influence the people who control the flow of information. You can influence a few, which will hopefully in return expand to influencing a nation to not be silent.
2. You can sign the White House petition to tell our government that we want their commitment to help.
2. You can donate to the cause of women getting higher education in Nigeria through the Peace Corp at this link.
4. You can use the hashtag #bringbackourgirls which is finally gaining media attention.
5. You can pray. There was recently a list of the names of the girls who were abducted released by a Nigerian Organization. There has been some debate as to whether releasing the names could put the girls at further risk. With this in mind I didn't want to share their names here but I found one site that only released the girls first names in an effort to protect their identity. You can find that here. One way you can help is by picking a name off of the last and committing to pray specifically for that girl until she/they are found.
Everybody has a voice. Everybody can do something. I would encourage you all to see these girls not just as numbers but as real people. As individuals with a story, with a life, with hopes, dreams, families and ambitions. To see them as your own sisters, daughters and friends. To use whatever means you have, whether small or large to fight injustice and help #BringBackOurGirls.