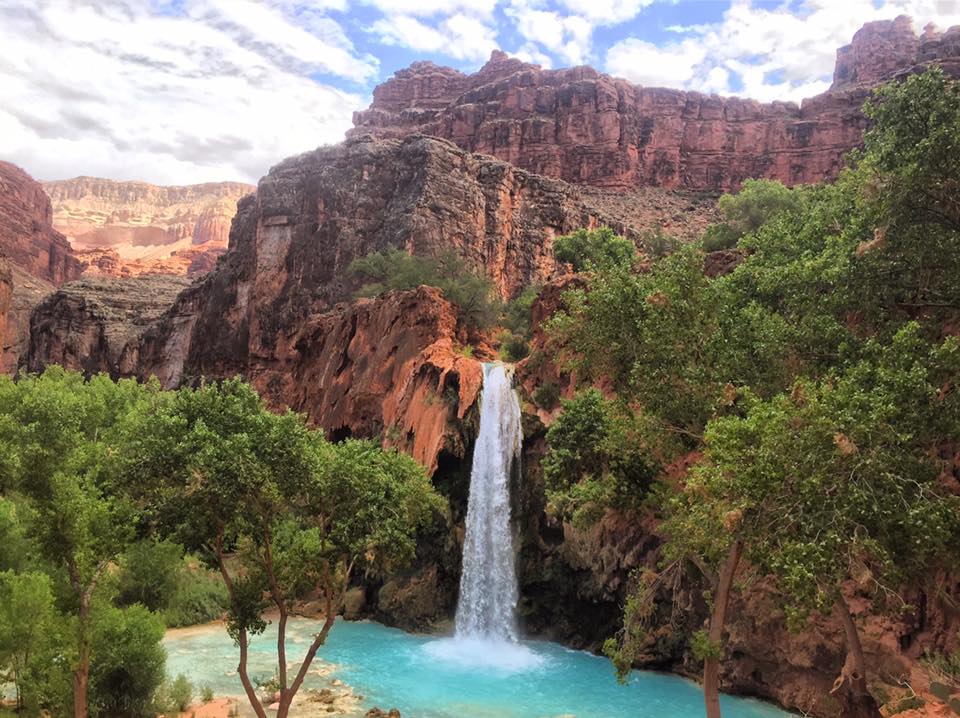 I recently went on a backpacking trip into the Grand Canyon with a group of seven of my good friends. It was one of the most incredible and memorable experiences of my life. I had visited Havasu Falls for the first time last year but didn't have a ton of time and loved it so much that I determined to book a trip again for this year. And I am SO grateful that I did because it truly was an experience of a lifetime.

We started our hike around 7am on Day 1 to try to avoid the heat of the mid-day. It is an 8 mile hike into the Grand Canyon to reach the small Indian Reservation village of Supai which is where we were able to drop our huge bags, grab our camel backs, and refuel our bodies with some electrolytes and food for the rest of the days hike.


From there we hiked about 1.5 miles to the first waterfall called Little Navajo Falls where we took a quick dip under the falls and in the pools surrounding.We then hiked on another .5 miles to the main falls called, Havasu Falls and spent the remainder of the afternoon exploring and relaxing in the falls

Day 2 we decided to explore a bit more near Little Navajo Falls and discovered the most incredible paradise that ended up being one of the biggest highlights of the trip for our whole team. We called these the Secret Falls and spent the morning playing in the different pools and sitting under the falls before grabbing lunch and venturing on…
From there we hiked about another 2 miles to Mooney Falls where we descended down to the base of the falls on a sketchy chain and ladders built into the rock. We survived 😉 (though apparently others haven't) and took in the beauty of Mooney Falls at the bottom.


Next we continued on..through the river, up ladders built into the rock, and through canyon passes… another 3 miles until we reached Beaver Falls for some more pool swimming and cliff jumping 🙂


We then trail ran the 5 miles back to Supai that afternoon to beat the sun, grab some food, and get to bed early for the 8 mile hike out the next morning.

Words can't even describe how incredible, euphoric, and adventure filled this trip was. I'm literally smiling to myself as I write this just thinking about it. Below are some travel tips for anyone wanting to plan an adventure to Havasupai.
1. First and foremost, call to book your permits and campsite months in advance – preferably the day the phone lines open. And keep calling if you can't get through. It took me a week to get through (calling every day) and by the time I got through they were already almost booked for the entire summer.
2. Bring PLENTY of water and electrolytes. It is so key for a successful trip. You will be hiking around 30 miles round trip in 100 degree temperatures (if you go in summer). And that is not something to take lightly. We had one girl on our team get heat exhaustion and have to get helicoptered out.
3. Bring plenty of sunscreen. We all pretty much layered it on each other every morning and luckily none of us got burnt but that could potentially put a huge damper on the trip.
4. Bring water shoes! Absolutely necessary if you plan to hike all the way to Beaver Falls because half of the trail is through the water. And because…cliff jumping 😉
5. Visit Secret Falls! Which I think is officially named 50 ft. Falls but there are no signs or clear trails to it. To get to it from Little Navajo just follow the small trail along the river about 700 feet until it dead ends at the falls.
6. And finally…Bring tons of those little packets of Tuna! haha. It was seriously a life savor out there. One of the few good and tasty options for packable protein. That and peanut butter pretty much saved my life and my hungry tummy 🙂
7. Enjoy! I have been to all 48 contiguous states, as well as 16 of the US national parks and have never seen anything like Havasu in the United States. Of course every place is so different, but Havasu is unique, and spectacular and definitely worthy of your bucket list. Feel free to message me on the blog if you have any specific questions to make your trip smoother. Enjoy!