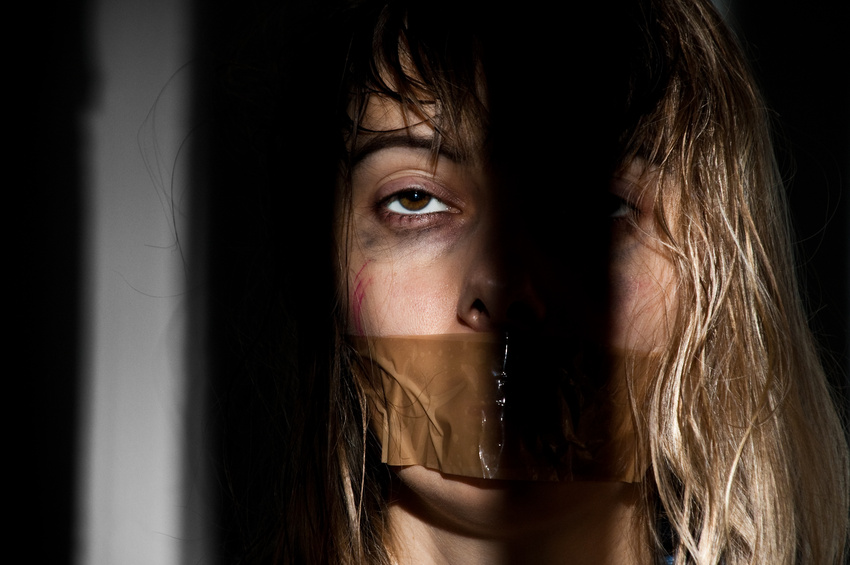 In just a few short days hundreds of thousands of visitors will flood to the University of Phoenix Stadium for Super Bowl XLIX. Many visitors will be coming to show their pride and cheer on their favorite team, but tragically, thousands more will be coming for something entirely different. What most people don't know is that the single biggest game of the year has also been called the single largest human trafficking event on the planet.
Just beyond the stadium lights, hidden within the shadows will be thousands of women, children and even men, caught in the inhumane web of sex trafficking. For them this day will bring something much different than football, loud cheers, hot dog stands and painted beer bellies. For them it will bring pain, abuse, rape and even fear of death. The exact numbers of trafficking cases in a given year or place are unknown because so much goes unreported but according The Florida Commission Against Human Trafficking an estimated 10,000 women and girls were trafficked to Miami for sex before the Super Bowl in 2010, and similar numbers if not more can be expected for the Phoenix game.
It is a traffickers playground. The influx of large crowds, anonymity, drunken binges, and lowered inhibitions foster a breeding ground for pimps and traffickers alike looking to boost their profits. Traffickers are able to make more money in one day from their victims than any other single day of the year. According to the Huff Post "One such trafficker, Manuel A. Walcott, was sentenced to 20 years in prison for offering a 14-year-old girl as a 'Super Bowl Special' during the 2009 game in Tampa. When undercover investigators inquired about 'the special', they were quoted a price of $300 for two girls — a 14-year-old and an 18-year-old who had been a prostitute for two years." This is the trend. Young women, children and even men are shuttled from city to city, venue to venue, sold to have sex with sports fans and conventioneers who are traveling without their families. Human Trafficking is one of the fastest growing criminal industries in the world, raking in an estimated $9.5 billion a year in the U.S. alone, and $32 billion worldwide. The only reason this business continues to boom is because there is such a huge demand for it and as long as there is a demand the supply will continue.
It is potentially our nations dirtiest secret. The sad part about it is that for the victims it doesn't stop the day after the big game. Yes profits are increased and the epidemic is heightened during this time but for these girls it is a 365 day a year reality. They don't have the convenience of waving goodbye and heading back to the comfort and safety of their homes once it is all over. People like Jane Wells, a filmmaker who recently released Tricked, a documentary about human trafficking, are advocating for law enforcement to focus on the crime all the time, not just around sporting events.
So I don't write this just to call your attention to the hideous underbelly of the Super Bowl. I don't write this just to offer up facts and information so you can learn something new today and then go on your way. I write this to call us all to be aware, to not be naive. To not be blind to the junk that is happening right under our noses. The truth is this is not just happening on Super Bowl Sunday in Phoenix. This is not just happening in the brothels of Amsterdam, Cambodia and Thailand. This is not just happening on the streets of inner city Los Angeles or Dallas. This is happening all around us, in our cities, in our neighborhoods, just steps from our front door. These are our children; sons, daughters, brothers and sisters. The average age of a girl who is sold into trafficking is 12 years old, some as young as 9 years old. These are real people. Not just numbers.
And we can all play a part in combatting it. Whether it be through prayer, through getting involved with an anti-trafficking organization or simply through being aware and paying attention to our surroundings as we go on our day to day. We can combat it through not contributing in our own lives to the things that fuel the industry, such as internet pornography, pornographic magazines and films that promote entertainment at the expense of human lives. We can combat it through playing our part and not tolerating the injustice all around us. A hotline is available for victims and people who suspect a person is being trafficked, through the National Human Trafficking Resource Center: 1-888-373-7888. Please put this number in your phone. Save it. Be ready. Be aware. And pray for those who are being trafficked this SuperBowl Sunday and the days, weeks, months and years to follow.